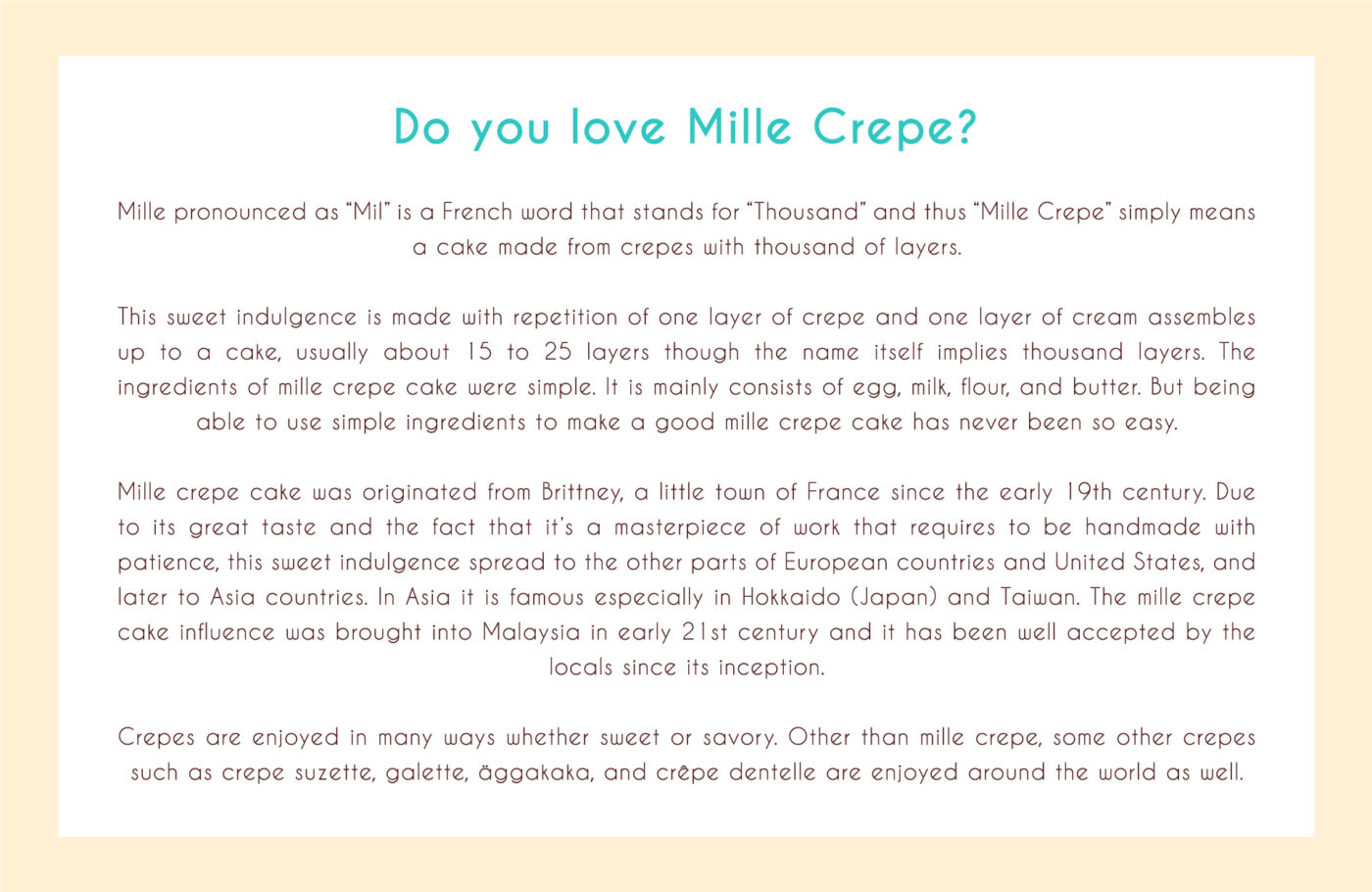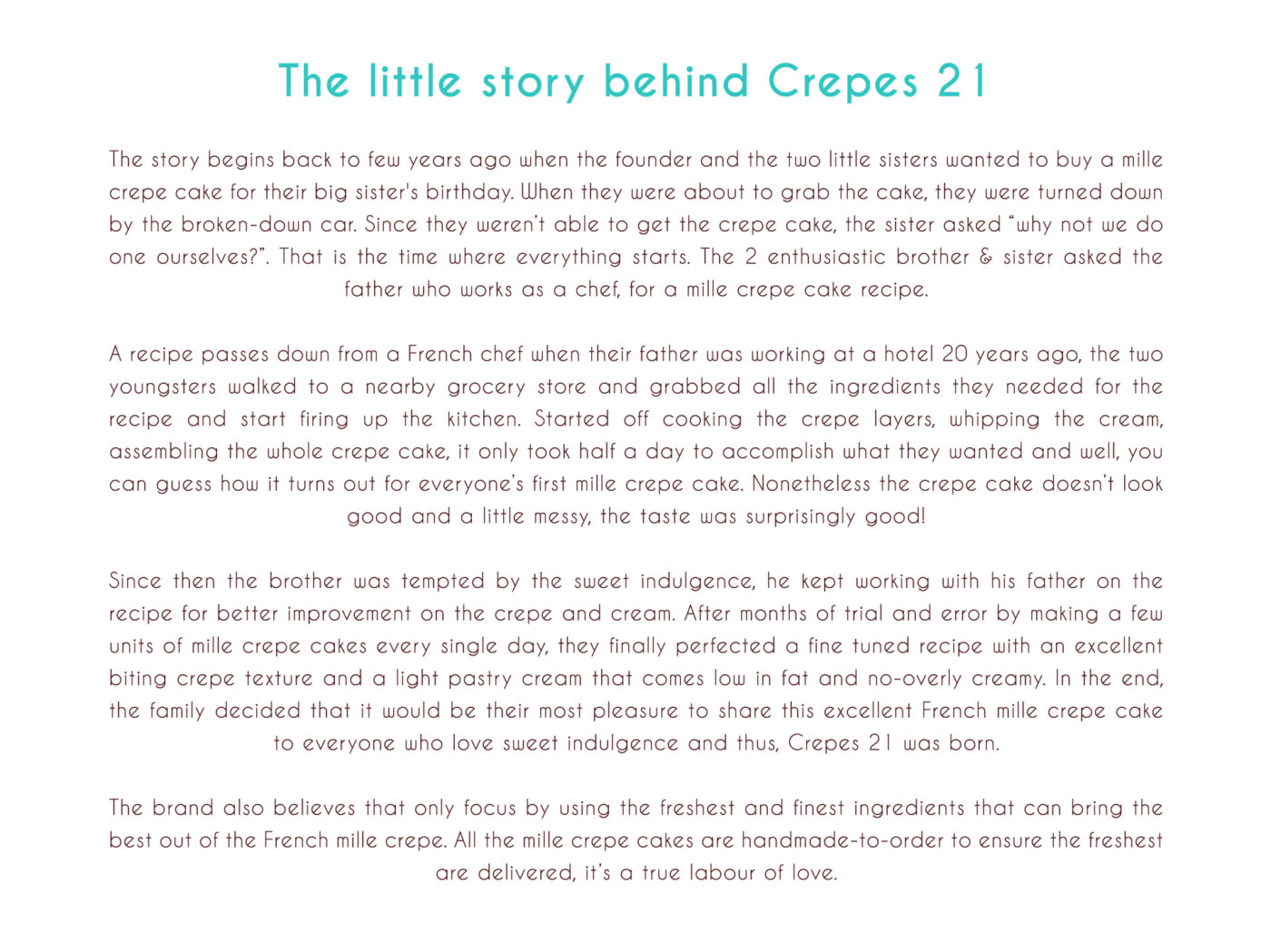 What's good about our Mille Crepe Cake?
Finest Ingredients

Our ingredients are sourced from the best part of the world. Vanilla from Madagascar, chocolate from Belgium, green tea from Japan and the list goes on!

It's all handmade

Each layer of crepes are handmade with patience and we make fresh daily with no preservatives! A true labour of love.

Guilt Free Cake

Worry about sweet stuff or the heavy cream? Fear not with our option to make your mille crepe with less sugar and be surprised with our low-fat pastry cream that doesn't feel heavy at all and makes you want to go for a second slice!

Free Delivery

No traffic jam nor the hassle to park your car. Hold back, relax at home, and we will send it to you! That's part of our service to make it convenient and save your precious time.
Do you love Mille Crepe?
Mille pronounced as "Mil" is a French word that stands for "Thousand" and thus "Mille Crepe" simply means a cake made from crepes with thousand of layers. This sweet indulgence is made with repetition of one layer of crepe and one layer of cream assembles up to a cake, usually about fifteen to twenty-five layers though the name itself implies thousand layers. The ingredients of mille crepe cake were simple. It's mainly consists of egg, milk, flour, and butter. But being able to use simple ingredients to make a good mille crepe cake has ever ever been easy. Mille crepe cake originated from Brittney, a little town of France since the early 19
th
 century. Due to its great taste and the fact that it's a masterpiece of work that requires it to be handmade with patience, this sweet indulgence spread to the other parts of European countries  and United States, and later to Asia countries. In Asia it's especially famous in Hokkaido (Japan) and Taiwan. The mille crepe cake influence was brought into Malaysia on early 21
st
 century and it has been well accepted by the locals since its inception. Crepes are enjoyed in many ways whether sweet or savory. Other than mille crepe, some of the other crepes enjoyed around the world are crepe suzette, galette, äggakaka, and crêpe dentelle. [hr]
The little story behind Crepes 21
Well, the story begins back to few years ago when the founder's sister wanted a mille crepe for her birthday cake. Just about when they wanted to go out to grab the cake, they were turn down by the broken-down car. Since they were not able to purchase a mille crepe cake, so the sister asked "why not we do one ourselves"? That is when everything starts. The two enthusiastic brother & sister asked the father who works as a chef, for a mille crepe cake recipe. A recipe passes down from a French chef while the father was working in the hotel 20 years ago, the two youngsters walk to the nearby grocery store to grab all the ingredients they needed for the recipe and start firing up the kitchen. Started with cooking of the crepe layers to whipping of the cream, and assembles the whole crepe. It took half a day to accomplish what they wanted and well, you can guess how it will turn out for everyone's first mille crepe cake. While the crepe certainly doesn't look good and a bit messy, but the taste was surprisingly good! Since then the brother was tempted by this sweet indulgence, and keep working with the father on the recipe to further improve on the crepe and cream. After months of trial and error, making a few units of mille crepe cakes every single day, they finally perfected a fine tuned recipe, with an excellent biting crepe texture and a light pastry cream that's low in fat and no-overly creamy. In the end, the family decided that it would be their most pleasure to share this excellent French mille crepe cake to everyone who would love sweet indulgence and thus, Crepes 21 was born. The brand also believes that only by focus on using the freshest and best ingredients, that it can bring the best out of their French mille crepe. All the mille crepe cakes are handmade-to-order to ensure the freshest are delivered, it's a true labour of love.